Had to juggle between two Christmas Parties. Stayed longer in Star Cinema's Christmas Party. Finally there was dancing (Sorry, I was too immersed trying to dance that I wasn't able to take pictures of me dancing. Hahaha! :D) Juggled between the Creative Department and Production Department's tables (Ah! The perks of being a multi-tasker! I even got two meal stubs and free hams). Save for the dancing part, it was a "loser" night for me. Didn't win in the Jell-O Eating Contest. Didn't win in the raffle. Huhuhu. :( Went to ABS-CBN's Talk and Variety Christmas Party after where again, I didn't win in the raffle. I also "hated" Monjam for not wanting to be my cameraman so I can have pictures with the artistas. (Boo Monjam! :D) Saw Phoemela Barranda, Kitchie Nadal, Lucky Manzano, Sheryn Regis, Bianca Gonzales, among others. Actually, I can't blame Monjam. Maybe he was embarrassed that I was in a starstruck mode. After all, all the guests there were mingling with the artistas like they're really close friends while I was acting like a crazed fanatic. Loser!!!! Hahahahaha :) But it's okay. At least I saw my crush. Hehe :)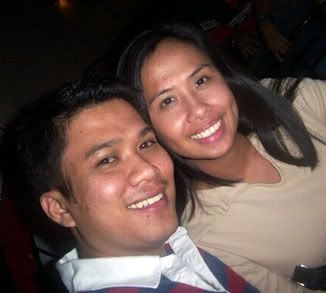 CATHY AND I. I was her apprentice in Till There Was You. She was the First Assistant Director and I was the trainee.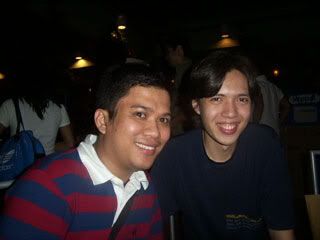 I AND JR. Direk Lauren babies. Hahahaha :D I was Direk's AD in All My Life. JR's Direk's AD in SCQ Reload.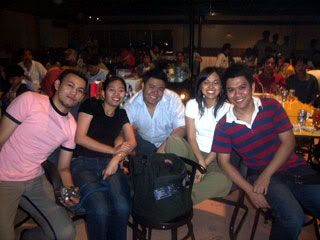 ADOLF, CARMI, CHINO, GUIA AND I. The Creative Department won the Best Production number that night doing a Volta dance number. Chino wore a "tangga" for that. Guia won the Crush ng Bayan Award.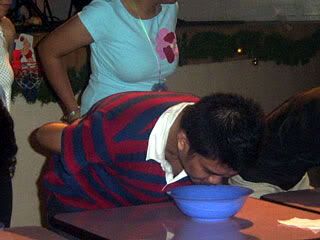 DIVING FOR THE JELL-O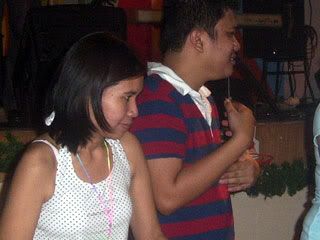 JELL-OOOSERRRR!!!!! :D
Will leave for home (ooohhh yesss!) tomorrow so I'm temporarily saying goodbye. Will be back next year for my Pop 10 Songs, Music Videos and Movies of 2004. I'm now refusing to call it "my Top 10…" The word "top" connotes authority kasi eh hindi naman ako authority sa mga ganon. Just check out my archives for my choices last year.
Merry Christmas and a Happy New Year everyone!