Happy Easter guys! Just got back from my hometown. Yep, I was able to go home this Holy Week. Saya! :) Although, ngaragan na naman ngayon. I'm nervous too. We have shoot tomorrow and I don't know if we're that well prepared. We'll also start editing the new show already next week for presentation to the "gods". I don't know if I can handle the pressure. Siyempre nang dumating ako dito, andami na namang bloopers. I left some important CDs at home and had to ask my sister to LBC them to me. What more, my laptop's inflicted with a computer virus. It just shuts down automatically or says that there's computer error all the time. This started when I added 520 MB of memory to make it 1 G. (I also don't understand what I'm writing about). Plus, argh! I lost my external disk memory of 80 G during our last shoot! Man, I have to spend money to buy extra disk space again. GRRRR! I need the extra space for transcription. Let's just say that I'm not earning much these day after I temporarily left the youth show for this new show. This is so depressing. :(
Neways, thought to share with you some pics taken a day before we had our Subic shoot last week. We found time to have some fun even if there's work the following day. So I guess what's happening to me now is karma.
New show's staff with our director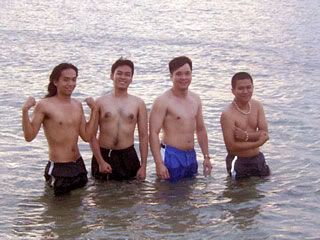 Yep! With our director! Haha! :) Hulaan nyo na lang kung sino.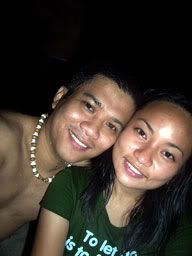 With Yam, one of the writers.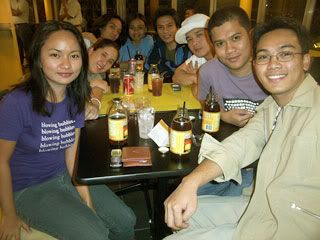 Dinner at Yellowcab Subic after the swim