I miss this blog!
I know I should have written about my Korea trip sooner but work has been taking up most of my time lately. I would have wanted to write a more detailed entry but my mind's just too "drained" from work. Nothing's coming out of it anymore if you allow me to exaggerate. (Am I even making sense?) Which is not to say that the trip was forgettable because it was definitely not! In fact, even if I was multi-tasking during the whole shoot (I was the location manager, co-producer, assistant director, and writer all in one), I actually had fun. Direk also didn't throw any tantrums, which made it easier for all of us. Thanks to the very cold weather I guess, because I think it literally and figuratively cooled us down.
Before I embarrass myself with more awkward sentence structure and wrong word usage, let me proceed to tell you about my trip to Korea. Heh.
SATURDAY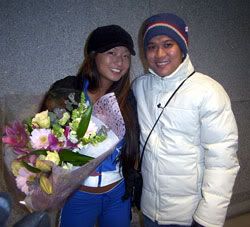 Ritchie (our associate producer) and I arrived ahead of everyone. It was a disaster in the making. If we hadn't called our Korean coordinator that day, he wouldn't have known that the shoot would push through. I also thought that everything had been planned out already but only found out when we arrived that we still don't have a hotel to stay in. But, I don't know, I wasn't nervous because I savored more the feeling of being in Korea for the first time. It was really very cold when we went out of the airport. There's "smoke" coming out of our mouths every time we talk. So I talked and talked because it was so "cinematic". Heh! While waiting for the bus that would bring us to Seoul, we chanced upon some camera crew following a certain celebrity. Honestly, I didn't know who she was but since she seemed famous, I requested to have my picture taken with her. Later on, I found out she's Gail Kim, a very famous Korean-American WWE wrestler and she's having her homecoming to Korea.
SUNDAY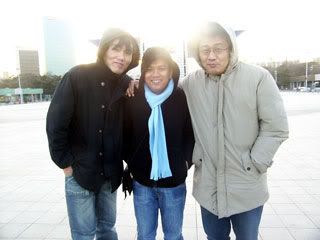 Chang and Lee, our Korean coordinators, toured us around Korea looking for possible locations to shoot. We went to a lot places including the historic Olympic Park. Chang and Lee, hot-blooded males that they are, kept asking me how to say some "sex" terms in Filipino and I gamely taught them! Heh! I think I became a "pervert" in their eyes because they only invited me (not Ritchie) to come with them and do some hanky panky with local prostitutes. LOL! :) I politely declined, of course.
MONDAY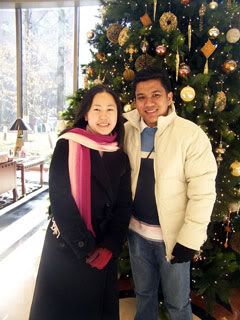 Ms. Nancy, our production designer and I, met my high school classmate Seong Yeon and her boyfriend Seo Koh. I felt like I was in "Lost in Translation" when the taxi driver couldn't understand the directions we gave. Let's just say he brought us to Seoul National Hospital when we clearly told him to bring us to Seoul Finance Center. LOL! :) Seong Yeon and Seo Koh were so accommodating and nice. They gave me gloves and lent me a winter jacket to keep myself warm. They also treated us to a Mongolian restaurant and let us "experienced" their subway system.
By nighttime we fetched Direk and our stars in the airport and from there, work officially began.
TUESDAY AND WEDNESDAY
It was all work, work and work but honestly, I didn't think we were working at all! It was that fun! Also enjoyed joking around with Henry, Hero's brother. Just some childish stuff like talking behind the backs of our non-English speaking Korean companions. Bad, I know! :)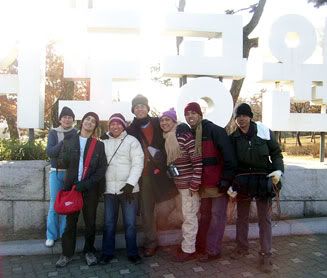 P.S. Mali ang dubbing ng Lovers in Paris na "Adja!" which supposedly means "Let's Go!" Dapat "Kaja!". Hindi ko alam ang tamang spelling basta ganun ang pronunciation dapat. :)