Twas a "winner" night for me. Found myself having fun in the Star Cinema Creative Department Christmas Party. Had second thoughts joining the party actually. After all, I resigned as Creative Assistant July of 2002 still and my last project with Star Cinema's Creative Department as a talent was still last year's My First Romance. I also am not that familiar with the new Creative peeps. But Ms Tammy coerced me to go and I'm glad she did coz I really had a blast meeting new friends and winning the games. Hehehe :) First, our team composed of Direk Olive, Emman, Pink Tianak, Ms Maya and I won the "charades". Pitted against the newbies, we easily guessed the titles of obscure Star Cinema movies. The most fun part really was the "Creative Idol Season 2" singing contest. The game's simple. All the guests (like 20 of us) had to sing a song from the pop videoke machine and whoever gets the highest score wins. Pink Tianak who was the second to sing (She sang Alanis' "You Oughta Know") definitely raised the bar early when she got a perfect score of 100. Next came Miss Maya who also got a perfect score by singing the classic Misty. Then I got a perfect score too (ahem, ahem) belting out U2's "Stuck in A Moment". (I love it when I'm "paos". I think I sing very well when I'm "paos." Heh!) Finally, Adolf of Gil Portes movies' fame, got a perfect score singing Maroon 5's "This Love". Then came the tiebreaker round wherein all of us "perfect scorers" (hehehe) had to sing the same song. Just apt for the occasion, we were all asked to sing "The Christmas Song." Miss Maya sang first and she did very well scoring a 98. I sang next and I was suuuperb getting a score of 98. (I love my subtle bragging!) Unfortunately for Pink Tianak, she only got a score of 97 (Sorry boo! Hehe :D) And unfortunately for Ms Maya and I, Adolf got a 99 (Boo us! :D Hehe :D).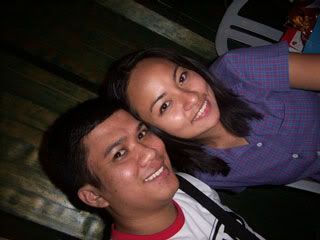 PINK TIANAK AND I. Nikki McKibbin and Clay Aiken. Go figure! :D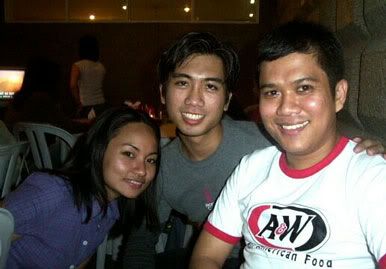 PINK TIANAK, MONJAM AND I. Go Pink and Monjam loveteam!!!! :D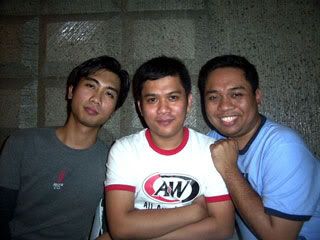 MONJAM, I AND JP ABELLERA. Enough said. :D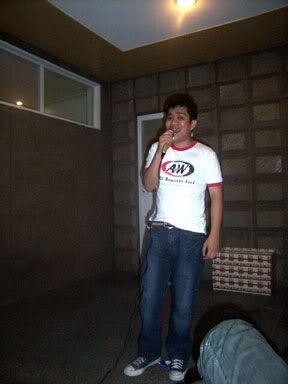 Oh love...look at you now... you got yourself stuck in a moment...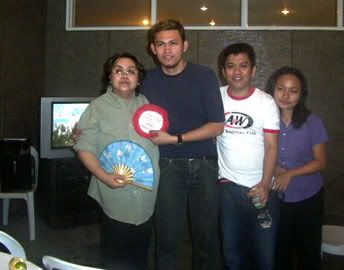 CREATIVE IDOL FINAL FOUR. Clay Aiken is more popular than Ruuuben, aight?! Haha! :D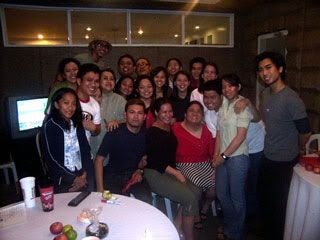 CREATIVE PEEPS