I'm back! Not that I went away or got busy with work. In fact I'm actually "beatlebum" these days – no work, all lazing around. After 2 weeks of not planning any thing though (carpe diem, ah the best!), finally sat down last night to lay down the plans. That's why I'm here! Because I put "write blog" in my list of things to do today. Hehe.
I think I'm going to blog about Emman's birthday first. Man, that was fun! I think I'm officially an artist groupie now. I have a housemate who's bound for Sundance. I hosted a birthday
salo-salo
for a
Cinemalaya
director, that's Emman of
Sarong Banggi
for you. I was group mates in
Taboo
(the board game) with the directors of
Cinemalaya's
crowd pleaser
Big Time
(Mario Cornejo and Monster Jimenez) and the director of another entry
Isnats
(Mike Dagnalan). Haha! Okay I'm a geek. I'm delirious that I got to play Taboo with today's promising young filmmakers.
Taboo's
groovy too! We finished playing the first round past midnight already and even opted for a second round that lasted till six o'clock in the morning. Those, while an
Omen
marathon (from the orig to part 4) is playing in the background. Haha!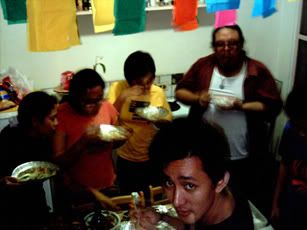 The
banderitas
are courtesy of
Monjam
. Haha!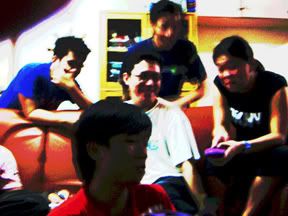 My team ready to "potpot" the clue giver of the other team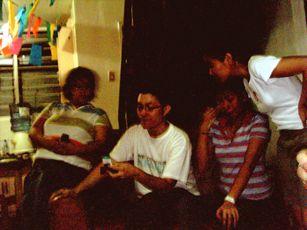 The other team ready to "potpot" our clue giver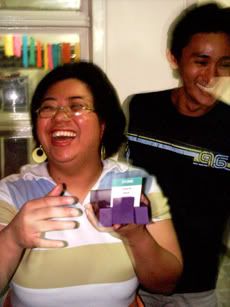 Olive
giving clues to her team, while my teammate
Jade
is getting ready to "potpot" her. Hehe!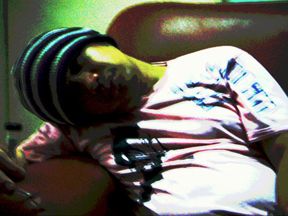 Clang
, the scorer, sleepy already. The game's 1st to 100. Haha!
Morning after and Emman was still restless. He took some happy artsy fartsy pictures of me, Rose and Monjam at the front and back of our apartment. I'm sharing with you my favorite pics. Hehe. I'm a narcissistic geek, okay.
Solo shots...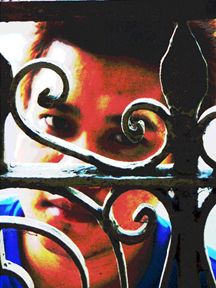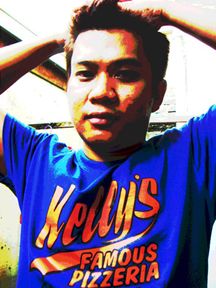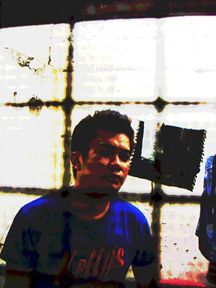 Rose
and I...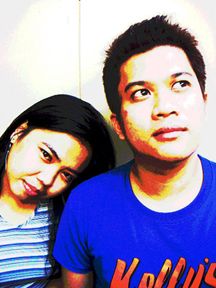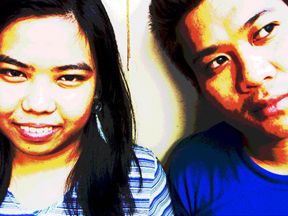 Rose and Monjam...(the new loveteam?!? :D)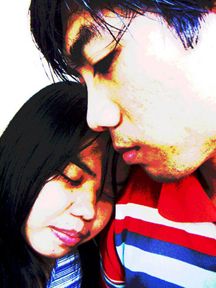 Rose and Emman, the birthday boy (yebah!)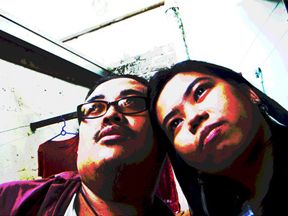 What's more groovy is that Clang, editor of
Ang Pagdadalaga ni Maximo Oliveros
, happens to be a big Eraserheads fan like me. He's friends with Marcus Adoro and he's got some interesting Eheads tales to tell. After the juicy stories that he shared, I shall never listen to Eraserheads "Spoliarium" and "Kananete" the same way again. Party ended at 10am.
P.S. Hope you can hear the song in the sidebar. It's my favorite Sponge Cola song in their
Palabas
album. I'm hosted by
Ripway
and they have a maximum number of downloads per day so there'll be times when the song won't play. Hopefully when my new web host finished setting up (Wink, wink, whoever you are! :D) I can already share another favorite song.