Yep, it's my 26th year of existence today, happy birthday to me! :) Celebrated it last Saturday night with a party and
dod
, "I had a blast" is the overused sentence of the year! Haha! It's the first time actually that I hosted a birthday party. Heck, it's my first birthday party since I was 12 years old! :) I had some apprehension at first. The reason why I chose not to celebrate my birthdays with a party before is because I hate being the center of attention. You know, everyone focusing on you because you're the birthday boy. Don't like that! More so, I was thinking what if my guests wouldn't enjoy my party? Would hate that! Glad I was all mistaken! I'm blessed to have such cool friends who didn't mind mingling with guests whom they just met for the first time and who didn't bother to bother the party host. It was pure geeky fun with some "magic sing" videoke contest, some card gambling, some unadulterated chitchats, some booze, and some recreational drugs. I don't know if I will still have enough
moolah
to host another birthday party next year, but this year's was just too much fun. I confess I got teary-eyed later on, realizing the person up there really loves me so.
Birthday boy posing with the birthday food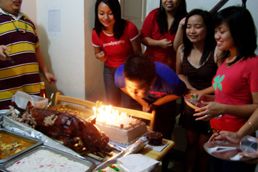 Blowing the candles, yipee!
Emman cutting the lechon
biik
With unexpected guest
HAGORN
, yebah! It was an honor. I mean, Jessica Zafra said he's
the next big thing
, what more can I say! I like his cool demeanor and unassuming stance.
Bagay sila ni Michiko
. I'm rooting for their loveteam! Haha! :)
MORE RANDOM PICS...