My actual birthday started out real bad. I arrived at the airport mere ten minutes before my flight is about to depart. I had to beg for the supervisor to let me in. After some good acting, she finally said yes only to find out that I didn't have enough money for the excess baggage and terminal fees. (Damn the cab driver who asked for an extra 100!) But Christmas indeed brings out the good in everyone, no matter how superficial the feeling may be. A nice lady gave me a hundred bucks after she heard me plead to the counter to let me withdraw from an ATM machine. (Nice lady, whoever you are, bless you!) I've never felt so happy when I was able to finally seat inside the airplane.
Arrived home and found out that my uncle from Zamboanga City and his family are in town and my family's preparing a birthday party for me. Awwww! I immediately text messaged my elementary school friends to come and join the
pahtay
. After which, my friends toured me to my hometown's newest gimmick venue. We also talked about plans for our annual reunion. Since I was dead tired that day, I excused myself early so I can rest. Alas, I realized that we only have 3 bedrooms in our small bungalow and since we have relatives who are staying in for a few days, my sister and I had to sleep with our parents in their bedroom. It's okay though. Before I left home for high school, our family used to sleep together in one bedroom and sleeping together again made me reminisce the good 'ol days I guess. Felt a bit emotional in there.
Lechon na naman, yebah
!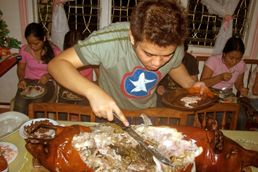 With my elementary school friends!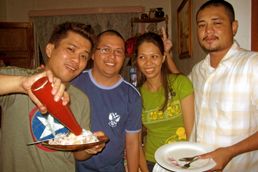 In Glorieta!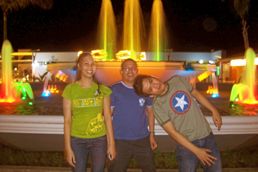 Oo! Me Glorieta sa bayan namin! Tingnan nyo ang sign, o!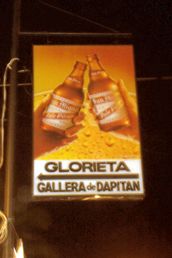 My sis and my
insan dahil, wala lang, kadi-discover ko lang na may burst mode ang aking camera! Haha!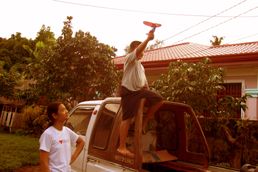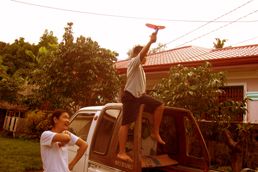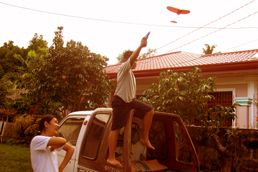 The following day, I got a text message from my former boss offering me to write for their TV show. This was the 4th time that they made the offer so it was a difficult decision to make. I mean, I do enjoy working in their company and they seem to believe in me, which is a very, VERY big thing! (Of course, I also worked VERY hard to earn their trust.) The problem was I already made a commitment to my filmmaker friend to be her assistant director in her indie movie. The indie movie's shooting sked is in conflict with the sked of the airing of the TV show. I honestly didn't know what to do so I just told my filmmaker friend about my dilemma.
Hay
, I'm so blessed to have good friends! My filmmaker friend told me that it's okay if I choose the TV show. She understood my plight since she also worked for my former boss before. I really thought for a sec that I would have a "my friendship or your career" soap opera conflict! Haha! :)
I'm nervous thinking about working for the TV show. What if I wouldn't live up to their expectations?!? The anticipation is stressing me out. I'm aware that a text message like "kailangan ka namin" could be written simply to persuade me to accept the job, no more no less, but it's pressuring me! Good Lord, HELP!
Even with this upcoming TV project, I still hope I can get to work with my filmmaker friend in the future though. I want to do indie production work. I still dream of someday making my own film.
Forgot the tension-filled afternoon by nighttime when I got a call from my workmate Katski. She greeted me a belated happy birthday and told me that she wanted me to talk to someone. I really had no idea who that's why I got the surprise of the year when I found out it's
the
Yael Yuson of Sponge Cola on the other line greeting me a happy birthday. Or telling me a joke about him being called the Sponge Boy. Or something like that. I actually couldn't hear him well since I was constantly muttering some silent curses.
Shet, ganun pala yung feeling pag nasa Oprah!
HAHA! I obviously don't like to be surprised but it was a pleasant surprise. That was a sweet gesture of Katski. I mean, I wouldn't think she remembers me being a fan of the band. (She's friends with Yael coz they're both from Tanghalang Ateneo, I think.) I heart Katski!
Check out the new song on the radio, Pinwheel's
Masayang Kalungkutan
. It will definitely be in my list of favorite songs for 2005. Hope you like it! :)
Merry Christmas, everybody! Happy New Year too! :)