It's that time of my life again when I have to document the happy days that come so rarely just to signify that I do have life outside work and I'm not as dorky as I want myself to believe.
Okay.
I guess the act of documenting your happy days is in itself dorky, which makes me dorky indeed so…okay I'm blabbing mindlessly, let's go to the documentation.
Finally! After more than 1 week of writing another teenybopper movie (yeah, I'm the perennial mainstream teenybopper writer), I finally got the chance to unwind for a much, much needed break. Let's just say writing the flick wasn't that breezy. For one, I have a director whose wavelength I find hard to fathom. This is exactly the reason why I chose to be mum about the project because for all I know, after they read the first draft, they'll forcibly drop me from the project. A big possibility, by the way.
Okay, no more negative thoughts! Back to the happy days documentation! Haha! :)
Had a blast (love the phrase "had a blast", do you observe?) during the weekend. Friday night, I spent with my SCQ Reload friends Koyah Henry and Ritchie. First we went to Moomba to catch the gig of the band Soul Ground. Koyah's friend is one of the vocalists. From their moniker, they obviously play soul music. Tried Moomba's house specialty, grilled lamb steak with barbecue sauce. (Gad, I'm turning into one of those bloggers! You know, the ones who painstakingly document every detail of each restaurant visit, even taking pictures of the food they ate, and then passing the documentation as a blog entry?! Haha! :D) Didn't take a picture of the grilled lamb steak with barbecue sauce though, damn! :) Food was yummy but the company was better. It's been sometime since I last talked with these peeps.
Barhopped after to Friends in Ortigas to catch Tribe of Levi. One of its vocalists is also Koyah Henry' friend. They played dance music and people were dancing wildly all around. Me, I don't dance.
I don't know how to dance
. Koyah Henry's a dork too, so we just watched Ritchie dancing like crazy, alone. :)
Ended the night in Iceberg, Metrowalk where we met Ross, one of Reload's PA's. She now works in a call center located in a building just in front of Metrowalk. We talked and talked till 4 o'clock in the morning, mostly about PBB where Koyah Henry and I had a blast aping the housemates. (I'm wondering why ABS-CBN's gag shows still haven't spoofed PBB.
Shi Shay pa lang, andami nang materialsh for comedy
. :D)
Koyah and Beatlebum in Iceberg
Woke up Saturday just in time to attend the first of two birthday parties. The first was for the 1st birthday of the daughter of my former boss Tammy in Itallianis, Libis. Crowd was mostly Star Cinema peeps (the company bosses, the works! :D) but it was cool. Food was great and I also got to meet former workmates whom I haven't seen lately like Dado (our headwriter in Pangako Sa 'Yo), Henry (writer of Forevermore where I was the project CA) and Miss Elma (our line producer in All My Life). Surprisingly found myself enjoying the magic show. Never experienced that when I was a kid. Pity me, heh! :)
Ah! Also got to see again Ann Angala who's coolness personified! Well, I think so. Ann was the manager of the Eraserheads before the release of the Fruitcake album. (Tammy, Ann and Ely Buendia were classmates in UP Film). She also managed Barbie's Cradle before Barbie went born again. I first met Ann when I was still a CA for Star Cinema and she joined one of the brainstorm sessions. When I found out she was
the
Ann Angala, embarrassed myself by constantly gushing over how the Eraserheads's music greatly influenced my high school life and by continuously asking her about life with the band. She was and still is cool with my being a vocal Eheads fan that's why I lurve her.
After the children's party, segued to Makati for the joint birthday party of work friends Tessa and Adolf in the penthouse where the former lives. Tessa is my co-writer in My First Romance and Adolf is my writer in Qpids. Started the night pretty normal, you know, singing videoke and stuff but when most of the guests have left, that for me was when the party really started. The 10 of us who
survived,
literally danced the night away (and I told you I don't know how to dance so that was really something!). I was the only sober person that night I think, so I also had extra fun watching the drunken state of the others and the stupid things they did like dry humping each other and everyone going topless for that matter, haha! I can't wait to see the pictures! They're really lewd. :D
Meanwhile, here are the wholesome pics
of me
from the party. (The lewd photos of
the others
will have to wait.:D)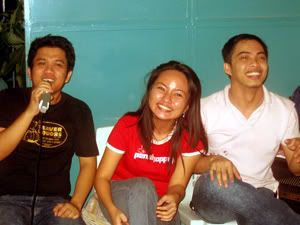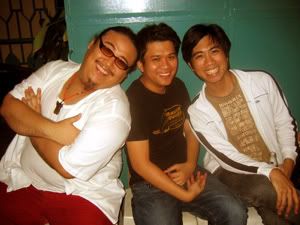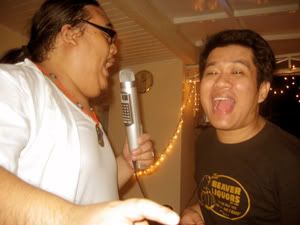 Went home 8am and woke up to write this entry. Here's hoping to document more happy days. Hoping.