And so it ends… the loventure that was Qpids… the reason why, ironically, I didn't have time to make "karir" my lovelife this year. Haha! :D But as the expression that got popular with the kids of the show goes, it's "owraaayt" coz definitely, and I mean this, it was hellava fun! Surely, it was a topsy-turvy 10-month ride (started with the show December of 2004 when Mr. Qpido, our business unit head, told me about the concept). There were some downs (I'll be ho-hum on this one) but there were a lot more ups to make up for the downs. Thanks mostly to the cast, the friendliest and most professional cast I've encountered (newcomers rule! primadonna has-beens suck! :D) and of course, the "bestest" crew (argh with the superlatives but I'm in a grateful mode right now). We did form friendships, didn't we Saffron? ;)
You all know this would be a thank you entry, right?!? Hehe.:) Thanks again...
The Cast
- Again, I lurve them! Those who weren't in the Final 4 loveteams whom I'll always be fond of are Love Princesses Vane, Pauleen, Andrea and Isabel and Prince Charmings Gian, Gabb, Felix, Dominic, Jawe and Carlo. I really wish that good karma will come to them and that their careers will soar higher.
The Final 4...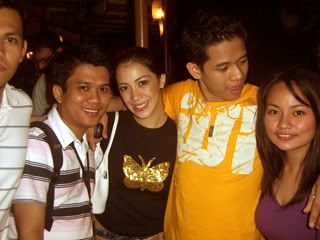 Jarla
- CF's right to be Carla's fan. She's the classiest and kindest young star I have met. I'm also amazed with Janus (I worked with him before in Till There Was You) because he is a very talented actor and he's not even aware of it. There's also never a dull moment when you're with him. This pair will certainly excel in a show or sitcom of the dramedy genre and I wish ABS CBN would give them that.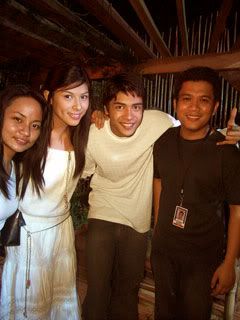 Pawel
- Paw is probably the most mature among the ladies. Sometimes it's difficult getting her to open up about stuff but once she blabbers, man, she really blabbers. I also like her eccentricity, which I guess is part of her being a true artist. Mikel is also eccentric, and very smart too. If Mikel will continue to get his act straight, I'm very sure this loveteam will go places. I respect and believe that the Final Love Council made the correct (albeit, surprising) decision in hailing them as the Grand Loveteam.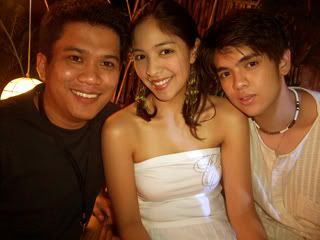 Mhyzel
- Hazel's the most guarded among the Final 4 ladies probably because she's in this business the longest. That's why you know that when she's appreciative and nice, she's genuinely appreciative and nice. I like Mhyco for his wide-eyed innocence about showbiz stuff and his sincere interest in improving his craft. I really believe they're the next Judy Ann and Wowie and yes, that's a compliment.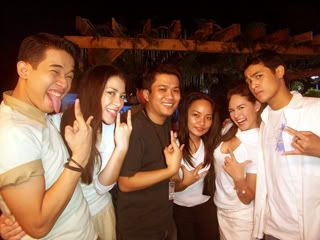 Jilwyn
- I loove Jilwyn! We're friendsters you know. Haha :) What's funny is that during the start of the show, I really didn't care much about them. Thought Jill was too sugar-friendly and Alwyn was just "there". But as the show progressed, I began to see their innate niceness, good character, and kilig chemistry. Basta I love them! I actually thought they'd win this contest. :)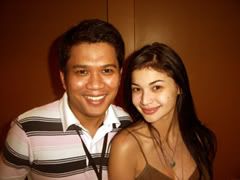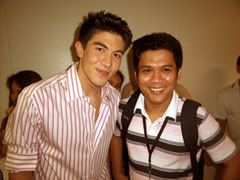 The Hosts Nippy and Manzano
- Of all the cast members, they're the ones whom I'm not that close with (mainly because they only came to tape their spiels and host the elims and I'm not the writer assigned to assist them). I'm not even sure if they still remember me now that the show is over. Nevertheless, I have nothing but kind words for Anne and Luis. They're professional and intelligent actors. Detractors would say they're maarte but honestly, I didn't see that kaartehan during the course of the show. Luis, I admire, for being humble and for his genuine effort to befriend even the "littlest" of the crew. Must have learned that from Ate Vi whom I also love after I got to work with her in Dekada 70 (and to think I'm a Noranian!)
Bigger thank yous to the crew...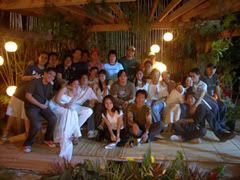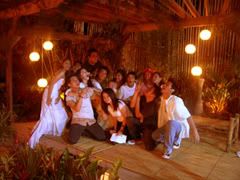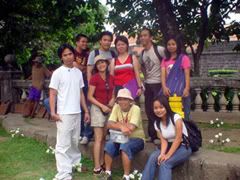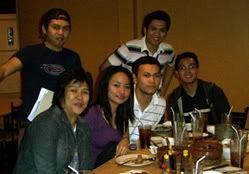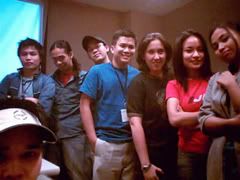 The Writing team...

Saffron
, the award-winning filmmaker of the short Binyag for lending her talents to this mainstream cheesy fare even if she's worth more than this...Though tactless at times like me, I adore her company and is absolutely entertained of her bittersweet real life love drama about ...well, just read her blog, haha!
Marcus
, my co-Survivor enthusiast and former orgmate in college. Who would have thought we'd get to work for real after working on an alliance in a geeky Pinoy Exchange fantasy game?!? Haha! :) He now works for PBB and I'm very sure this guy will go places because he's a hardworking kid!
Adolf
, the award-winning writer of Munting Tinig (and you thought my team was lightweight, huh?!? :D), Kahapon May Dalawang Bata and recently, grand prize winner for best screenplay in 2005's FAP Scriptwriting Contest . I'm very grateful that you accepted the writing job and made our work lives "funner"! :)
I will definitely miss those videoke moments guys and I hope you will not forget me when you already rule the industry! :)
The Production crew...

Direk Lauren
. I'm not vocal in expressing my thanks to him cause I'm shy but Direk is really my "tatay" in this business. Thanks for believing in me Direk and I will forever be grateful and indebted to you!
Miss Maru
, our Production Manager. It's very rare to find a patient and understanding Production Manager in this cutthroat biz that's why we're very lucky to have you Miss Maru!
Direk Jon
. He can be overly critical and imposing at times but he's also so much fun to work with. It was a blast working with you Direk and I believe in your talents!
AD Valerie Rose
. This girl could have worked in a higher position in her dad's multi-media company but chose to make her mark outside. Just because of that, I already admire her.
AP's Miss Avie and Miss Maricel
. Awwwwww.... I will definitely miss their company specially Miss Avie and our "pechay" moments.
PA's Nelson
, my neighbor and juts dealer, haha...
Coleen
, who makes fun of me by saying I'm her crush (like I believe that for a sec! :D)... and "Wow, Labers"
Owwwwslec
, the perennial flirt, haha...
SP's JR
, or Jon Mola as we call him, haha...
Aye
whom I hope will find lots of fun in her cruise ship job... and
Herbert
, another award winning young filmmaker to watch for...
Art Dept Angel, Gerry
, that guy who they say looks like me, and the orig PD
Miss Nancy
...
The
I-Post Editors
that I adore,
Pechay Mariane, Pechay Mario, Amir, James, Kuya Chris, Mac,
and
Kuya Ray
...
Other crew members,
LM Kuya Tony
of Tondolf fame (:D), field cashier
Marlon
, and memorable cam persons
Manolo
and
Avie's Jay
...
And of course
, the
CWs, Ewong, Athan
and
Matimtiman Pinky
, er,
Peters
(we started this show, guys! :D) and
Jane, Henry B
, and
Andy
.
WHEW! That was a lot of thank yous considering (save for Saffron) they don't even know my blog site! Haha! Well, if ever they bump into this blog, my final say would be... till our next loventure guys, and, to quote Direk Jon, AYOZ! :)